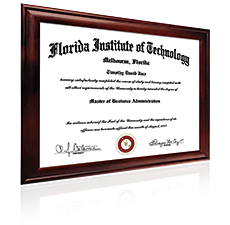 Our nation is waging a war online. In 2014, there were 42.8 million reported cyber attacks, and that number is projected to grow.* To fight back, businesses, government agencies and the military are enlisting teams of highly-trained cybersecurity experts. To meet the demand for knowledgeable professionals, Florida Tech's Harris Institute for Assured Information – created through a partnership with global security leader the Harris Corporation – is offering a Master of Science in Information Assurance and Cybersecurity, delivered 100% online. This powerful degree can help you break into cybersecurity or prepare you for a high-level position in a field that the Bureau of Labor Statistics' Occupation Outlook Handbook expects to grow 37% through 2022.
Expand Your Expertise and Learn to Lead
---
Through the convenience of video-based e-learning, industry experts will help you expand your knowledge, as you learn to protect and secure information while countering the actions of illegal cyber criminals. You'll begin to recognize threats and vulnerabilities by studying complex attack models, and will gain the knowledge you need to lead a team or an entire department from a security perspective. And because Florida Tech has been designated a National Center of Academic Excellence in Information Assurance Research by the National Security Agency and the U.S. Department of Homeland Security, you can be confident you're getting the highest quality education possible.
You can earn this nationally recognized Master of Science in Information Assurance and Cybersecurity degree in 22 months or less – 100% online! Click here to learn more about Florida Tech's MSIA and Cybersecurity curriculum and program admission requirements.

Learn How To
---
Recognize threats, vulnerabilities and different security architectures
Analyze attack models, forensics and operations processes
Evaluate operating system security mechanisms and identify secure and unsecure features
Understand the communications model and communications encryption
Apply data mining and machine learning methods to cybersecurity scenarios
Analyze biometric technology and the privacy and legal issues surrounding it
Lead an organization in adopting new technology, implementing security strategies and protecting assets against attack
How You'll Benefit From a Master of Science in Information Assurance and Cybersecurity Degree
---
Enhance your salary potential and career opportunities in one of today's most in-demand fields
Start opening doors to high-level cybersecurity specialist, analyst and management positions
Gain advanced information assurance and cybersecurity expertise to give you an edge in the booming cybersecurity job market
Gain knowledge you can apply immediately in the workplace
Who Should Enroll
---
Designed to help professionals with technical backgrounds become highly-trained experts, The Master of Science in Information Assurance and Cybersecurity provides knowledge you can put to work immediately. Whereas Florida Tech's Master of Science in Information Technology (MSIT) with a Specialization in Cybersecurity provides a foundation of business and management courses, the MSIA and Cybersecurity degree delves right into the discipline on day one. By enhancing your knowledge and earning a respected MS in Information Assurance and Cybersecurity, you can position yourself for more prominent specialist positions and leadership roles. Whether you're coming from a civilian, military or government background, opportunities in both the public and private sector continue to grow. Take the first step toward earning your Master of Science in Information Assurance and Cybersecurity with Florida Tech's Quick Apply process for online graduate degrees.
Careers for a Master of Science in Information Assurance and Cybersecurity Graduate
---
From Fortune 500 companies to the U.S. government and military, no one is safe from the threat of cyber criminals. Even with the best security systems in place, anyone can become a victim of a cybercrime. As such, graduates of this degree program can find opportunities within many different organizations and agencies. Potential career paths for graduates include:
Computer Security Specialist
Computer Forensic Investigator
Computer Network Defense Engineer
Threat Intelligence Analyst
Security Operations Manager
Cybercrime Technology Director
Chief Information Security Officer
*PwC.com, Global State of Information Security® Survey 2015, July 2015