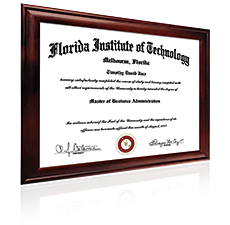 With the increased importance of collecting and mining data for business success, database administration has become a critical role. Florida Tech's Master of Science in Information Technology with a Specialization in Database Administration can position you for success in this exciting, fast-paced field.
You'll focus on the concepts, processes and procedures associated with administering a database system, as well as developing backup and recovery modes, addressing security issues and tuning performance.
Expand Your Expertise and Learn to Lead
---
Florida Tech University Online (Florida Institute of Technology) offers this MSIT degree in Database Administration 100% online. In addition to learning the fundamental business applications that any leader should know, you'll gain specialized knowledge in database administration and management, including information security management, project management for IT, advanced management of information systems, and database systems management. You'll rely on this combination of management and industry-specific knowledge throughout your professional career.
You can earn this nationally recognized MSIT in Database Administration from Florida Tech in two years or less – 100% online! Click here to learn more about Florida Tech's MSIT in Database Administration curriculum and online graduate degrees.
Learn How To
---
Understand the design and implementation of a complex database system.
Develop policies and procedures for database documentation.
Identify emerging technologies and the impact on internationalization.
Describe optimization schemas and the proper use of data structures.
Understand security and privacy issues of database systems.
Learn how to configure, manage, and maintain a database system.
How You'll Benefit From an MSIT Database Administration Degree
---
Enhance your career opportunities and salary potential.
Start opening doors to systems architect and high-level management positions.
Navigate the complexities of data analytics and security and privacy issues.
Gain knowledge you can apply immediately in the workplace.
Who Should Enroll
---
The Master of Science in Information Technology with a specialization in Database Administration can give you the knowledge you need to understand installation, configuration and performance tuning of database systems. Designed for those prepared to take on leadership roles within the Information Technology world, the program can help you attain success with the private for-profit sector, non-profit public sector or government sector.
Take the first step toward earning your Master of Science in Information Technology with a specialization in Database Administration degree with Florida Tech's Quick Apply process for online graduate degrees.
Careers for an MSIT with a Specialization in Database Administration Graduate
---
Organizations in virtually every industry can benefit from improved organizational processes and efficiencies. This degree program combines the advanced technical skills and proven business and management principles employers seek for positions such as:
Database Administrator
Database Engineer
Director of Information Technology
Information Architect
Chief Privacy Officer
Data Warehouse Administrator
Systems Architect