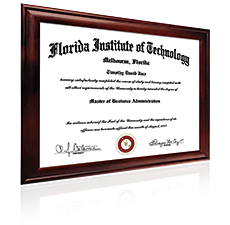 Effective technology and data use are integral for organizations to remain competitive. But it takes more than technical knowledge to be an effective leader. With Florida Tech's Master of Science in Information Technology, you'll attend essential business courses like Corporate Finance and Organizational Behavior that complement strategic technology management courses to make you a more well-rounded professional.
Master the Skills to Lead
---
Florida Tech's innovative master's in information technology program is nationally recognized and carefully constructed to prepare you for the unique challenges of today's dynamic information technology environment. You can earn this Master's in Information Technology degree in two years or less – 100% online!
In addition to learning fundamental business applications, you'll gain specialized skills in product management and systems administration specific to the IT industry. This combination of contemporary technical and management knowledge will provide a specialized skill set you will rely on now and throughout your professional career.
Learn more about Florida Tech's MS in Information Technology curriculum and online graduate degrees.
Learn How To
---
Lead complex projects from today's information technology perspective.
Develop information systems as strategic tools to provide competitive advantage.
Quickly adapt to new technologies and the volatile global environment.
Effectively identify and implement solutions through key leadership skills.
How You'll Benefit From an MS in Information Technology Degree
---
Increase your IT career and networking opportunities, confidence and financial security with an MS in Information Technology graduate degree.
Enjoy having the potential to seek higher salaries and other attractive perks.
Open doors to the most desirable senior management and executive positions in IT.
Gain skills you can apply immediately in the workplace.
Who Should Enroll
---
This Master of Science in Information Technology is designed to empower you with a wide range of specialized skills from managing software systems to implementing management strategies. Anyone who wishes to move into a leadership role within the field of information technology will benefit.
Take the first step toward earning your MS in Information Technology degree with Florida Tech's Quick Apply process for online graduate degrees.
Careers in Information Technology for MSIT Graduates
---
As a graduate degree holder, you'll be a stronger candidate for jobs and promotions — and you'll find a wide variety of careers in information technology. A Master's degree in Information Technology is highly valued by many employers seeking professionals with advanced degrees, practical leadership abilities and a broad technical understanding of emerging technologies in the IT field. It's highly sought after for a number of positions including: