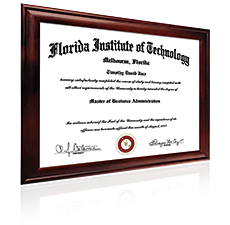 Technology has integrated itself into nearly every aspect of our lives, and with the cost of cyber crimes exceeding $100 billion each year, the need for increased security – along with knowledgeable cyber security specialists – has become critical. The Bureau of Labor Statistics Occupational Outlook Handbook reports that national growth in computer-related fields will grow 30% through 2018, much faster than the average for all occupations. Whether you want to put your expertise to work for businesses, government agencies or military organizations, Florida Tech's Master of Science in Information Technology with a Specialization in Cybersecurity will position you for success in this exciting, fast-paced field. You'll study complex security issues, gaining advanced knowledge in security models, access control, risk management, virtualization, intellectual property, incident response and systems security.
Expand Your Expertise and Learn to Lead
---
Florida Tech University Online (Florida Institute of Technology) offers this MSIT degree in Cybersecurity 100% online. In addition to learning the fundamental business applications that any leader should know, you'll gain specialized knowledge in cybersecurity, including information security management, project management for IT, host-based security, and secure networks and communications. You'll rely on this combination of management and industry-specific knowledge throughout your professional career.
You can earn this nationally recognized MSIT in Cybersecurity degree from Florida Tech in two years or less – 100% online! Click here to learn more about Florida Tech's MSIT in Cybersecurity curriculum and online graduate degrees.
Learn How To
---
Think critically and make decisions relating to attacks on computer infrastructures.
Evaluate security levels within an enterprise and make improvements.
Implement risk management and maintain continuity of operations.
Employ secure applications development methodologies, tools and techniques.
Identify cybersecurity attacks and mitigation strategies.
Apply relevant legislation and legal obligations to cybercrimes .
How You'll Benefit From an MSIT Cyber Security Degree
---
Enhance your career opportunities and salary potential.
Start opening doors to high-level cybersecurity management, specialist and analyst positions.
Gain practical IT security management knowledge and advanced cybersecurity expertise to give you an edge in the growing cybersecurity job market.
Gain knowledge you can apply immediately in the workplace.
Who Should Enroll
---
The Master of Science in Information Technology with a specialization in Cybersecurity can give you the knowledge you need to manage computer infrastructures securely – while helping you secure your future! Designed for those prepared to take on leadership roles within the Information Technology and cybersecurity world, the program can help you attain success with the private for-profit sector, non-profit public sector or government sector, including military. Students can gain a solid understanding of cybersecurity concepts, topics and theories, along with what is required to protect them from a management perspective.
Take the first step toward earning your Master of Science in Information Technology with a specialization in Cybersecurity degree with Florida Tech's Quick Apply process for online graduate degrees.
Careers for a MSIT with a Specialization in Cybersecurity Graduate
---
Organizations in virtually every industry are susceptible to cyber attacks, leading some to distrust the very technology they need in order to operate. As a graduate of this degree program, you'll be prepared to support and secure businesses, government agencies and even the military in a variety of upper-level positions, including: