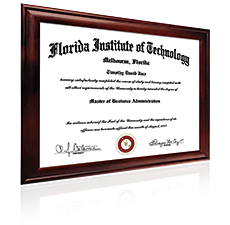 The need to enhance organizational performance and maximize customer value in today's highly competitive global marketplace has turned supply chain management into a trillion dollar industry. Businesses both big and small need SCM managers and leaders to synchronize the flow of products, information and funds between their organization and its suppliers in a way that adds value to the customer. Florida Tech's Master of Science in Supply Chain Management can position you for success within an organization's strategic management team, providing real-world knowledge and a deeper understanding of SCM's inner workings, from point of origin to point of purchase.
Expand Your Expertise and Learn to Lead
---
Florida Tech University Online (Florida Institute of Technology) offers this Master's degree in Supply Chain Management 100% online. In addition to learning fundamental business applications, you'll gain specialized knowledge in managing the flow of materials through the supply chain, developing logistics strategies, merging transportation policies with production and marketing tactics, and global supply chain analysis and planning. This combination of management and industry specific knowledge will provide a specialized skill set you will rely on now and throughout your professional career.
You can earn this nationally recognized Master's in Supply Chain Management degree from Florida Tech in two years or less – 100% online! Click here to learn more about Florida Tech's MS in Supply Chain Management curriculum and online graduate degrees.
Learn How To
---
Design and manage an effective supply chain.
Improve the operational efficiencies of a supply chain.
Understand and apply supply chain analytics.
Conduct demand forecasting, aggregate planning, and sales and operations planning.
Apply project management techniques in a supply chain context.
Understand the implications of supply chain initiatives in terms of key financial performance metrics.
Recognize and evaluate supply chain vulnerabilities and formulate approaches to mitigate risk.
How You'll Benefit From an MS in Supply Chain Management
---
Build a foundation of knowledge that can be used when preparing for SCM industry certification exams.
Enhance your SCM career and networking opportunities.
Increase your confidence and financial security.
Stand apart from your peers and enjoy higher salary potential.
Open doors to desirable senior management and executive positions.
Gain knowledge you can apply immediately in the workplace.
Who Should Enroll
---
Florida Tech's Master's in Supply Chain Management is designed for those who aspire to work or advance within the SCM field. It is ideal for professionals in a variety of roles, including:
SCM Professionals or Consultants
Purchasing Professionals
Manufacturing Professionals
Transportation Professionals
Business Owners/Entrepreneurs
These individuals work in numerous public and private sectors, including: military, government, Department of Defense, retail, banking, finance, transportation, telecommunications and general commerce.
While many individuals pursuing this degree have supply chain experience, the program can also benefit you if your education or experience is in fields such as engineering, the sciences or liberal arts.
Take the first step toward earning your MS in Supply Chain Management with Florida Tech's Quick Apply process for online graduate degrees.
Careers in Supply Chain Management for MS Supply Chain Management Graduates
---
Organizations in virtually every industry use supply chains in their daily operations, including non-profit and government sectors. As a graduate of this degree program, you'll be prepared for a variety of upper-level supply chain management positions, including: