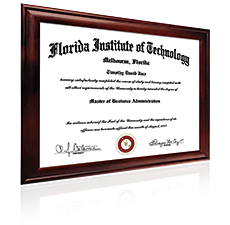 Today's organizations rely heavily on computer systems. As day-to-day business goals are increasingly affected by these systems, qualified professionals who can successfully manage will continue to rise in high demand. Florida Tech's MBA with a specialization in Information Technology Management provides the high-level technical and business knowledge to meet complex technology and business challenges. Rooted in the case method approach, this intensive MBA in IT Management program offers a uniquely collaborative, hands-on education only Florida Tech can offer – with no GMAT or GRE requirement.
Apply Real-World Skills Beyond the Classroom
---
At the heart of Florida Tech's MBA in IT Management program is an innovative two-course sequence: Essentials of Business Development 1 and 2. These initial courses, led by expert faculty, culminate in your own fully integrated business plan. You'll have the opportunity to choose your business and progressively bring your plan to fruition through critical business concepts from statistics and managerial economics to marketing. You'll gain new insights into real business situations by actively engaging in case study analysis and exercising leadership and teamwork skills. In addition to the core business fundamentals, you'll gain specialized skills in strategic information technology and management. This rare combination of academic principles and practical, real-world application results in a solid business foundation you'll draw from throughout your MBA education and your professional career.
Earn this nationally recognized degree from Florida Tech in two years or less – 100% online!
Learn How To
---
Understand basic concepts of IT and globalization.
Identify e-business strategies in a global marketplace.
Evaluate the value of emerging technologies and competitive advantage.
Examine organizational competencies and capabilities in running a high-tech firm.
Identify how new ventures are exploited.
How You'll Benefit From an MBA Information Technology Management Degree
---
Appreciate the unique relationship between business and corporate level technology strategy.
Navigate through the complexities of managing data in a global environment.
Address policy and management issues surrounding information systems in today's enterprises including: strategic use, organizational impact, project management and human resources.
Gain skills you can apply immediately in the workplace.
Who Should Enroll
---
A Master's in Information Technology Management opens up a wide range of high-ranking opportunities. With the specialized knowledge and skill sets only an MBA in IT Management can offer, you'll find yourself among a select group of professionals poised to successfully compete for key positions and earn more money. And you can earn your MBA in Information Technology Management degree from Florida Tech 100% online in less than 24 months.
Take the first step toward earning your MBA in Information Technology Management degree with Florida Tech's online Quick Apply process.
Careers for an MBA in Information Technology Management
---
Evolving technologies continue to put qualified IT professionals in high demand; however, top management and executive opportunities will likely only be available to those who hold a graduate degree. Florida Tech's MBA with a specialization in Information Technology Management combines the advanced technical skills and proven business and management principles employers seek for positions such as: