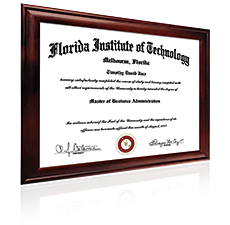 Business has evolved, and to succeed in today's ever-expanding global marketplace, corporations need global-minded thinkers and leaders. Gain the expertise you need to effectively compete and advance with Florida Tech's MBA with a specialization in International Business. This in-demand program provides high-level knowledge and concepts designed to help you to meet the international and cultural challenges facing business. Rooted in the case method approach, this intensive MBA program offers a uniquely collaborative, hands-on education that's distinctly Florida Tech.
Apply Real-World Skills Beyond the Classroom
---
At the heart of Florida Tech's MBA in International Business is an innovative two-course sequence: Essentials of Business Development 1 and 2. These initial courses, led by expert faculty, culminate in your own fully integrated business plan. The courses also provide new insight into real business situations by actively engaging you in case study analysis, while exercising your leadership and teamwork abilities. In addition to the core business fundamentals, you'll begin strengthening your intercultural awareness, discovering ways to manage relationships in a global business environment. You'll explore challenges and opportunities, and will uncover various strategies for competing internationally by formulating plans based on political, cultural, legal, technological, economic and environmental factors. This rare combination of academic principles and practical, real-world application results in a solid business foundation you'll draw from throughout your MBA in International Business education and your professional career.
You can earn this nationally recognized MBA with a specialization in International Business degree from Florida Tech in two years or less – 100% online! Learn more about Florida Tech's master's degree online course descriptions and MBA in International Business curriculum today!
Learn How To
---
Identify and evaluate competitive advantages for domestic and foreign markets.
Apply modern theories of effective leadership, management and negotiation in a cross-cultural environment.
Formulate business strategies for international expansion while considering political, cultural, legal, technological, economic and environmental factors.
Apply various accounting and finance techniques from an international perspective.
Assess and manage risk using financial, statistical and economic data.
Integrate varying marketing, operations, personnel and financial initiatives into an international business plan.
How You'll Benefit From an MBA in International Business
---
Increase your career opportunities, confidence and financial security by developing a keen global perspective of business.
Boost your potential for higher salaries, signing bonuses and other attractive perks that can come with the acquisition of international business knowledge and credentials.
Leverage your new expertise to start opening doors to the most desirable senior management and executive positions.
Who Should Enroll
---
This master's degree online program is designed to expose you to a variety of subjects, including global accounting and financial analysis, global marketing and global business strategies. Anyone who wants to build a successful career in the competitive, dynamic international business environment will benefit.
Take the first step toward earning your MBA in International Business degree with Florida Tech's online master's degree Quick Apply process.
Career for a Degree in International Business
---
As a master's degree holder, you'll be a stronger candidate for jobs and promotions – and you'll find a wide variety of high-level and executive careers for a degree in international business. A Master's degree in Business Administration with a specialization in International Business is highly valued by many employers needing experienced professionals with both a strong global perspective and practical leadership abilities. It's highly sought after for a number of business careers, including: