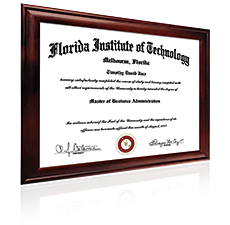 Whether you're interested in starting your own business, transitioning into a new field or moving up into an executive position, Florida Tech's MBA with a specialization in Management provides the high-level knowledge and range of skills to meet the challenges of today's complex global business.
Rooted in the case method approach, this intensive online master's degree program offers a uniquely collaborative, hands-on education only Florida Tech can offer.
Gain Real-World Skills for a Lifetime of Leadership
---
At the heart of Florida Tech's MBA Management program is an innovative two-course sequence: Essentials of Business Development 1 and 2. These initial courses, led by expert faculty, culminate in your own fully integrated business plan. You'll have the opportunity to choose your business and progressively bring your plan to fruition through critical business concepts from statistics and managerial economics to marketing. You'll gain new insights into real business situations by actively engaging in case study analysis and exercising leadership and teamwork skills. In addition to the core business fundamentals, you'll gain specialized skills in leadership theory, operations management and corporate venturing. This rare combination of academic principles and practical, real-world application results in a solid business foundation you'll draw from throughout your MBA Management education and your professional career.
You can earn this nationally recognized MBA Management degree from Florida Tech in two years or less – 100% online! Click here to learn more about Florida Tech's MBA in Management curriculum and course descriptions.
Learn How To
---
Form a complete business plan tailored to your interests and ambitions.
Apply modern theories of effective leadership, management and negotiation.
Make critical decisions and problem solve in the face of uncertainty.
Predict, initiate and manage change through innovative methods.
Synthesize conflicting points of view through active case discussion.
Assess and manage risk using financial, statistical and economic data.
Integrate varying marketing, operations, personnel and financial initiatives.
How You'll Benefit From an MBA Management Degree
---
Increase your management career opportunities, confidence and financial security with a prestigious, specialized MBA Management graduate degree.
Boost your potential for higher salaries, signing bonuses and other attractive perks.
Open doors to the most desirable senior management and executive positions.
Gain skills you can apply immediately in the workplace.
Who Should Enroll
---
This online master's degree is designed to expose you to a variety of subjects including multinational business policy, ecommerce and legal responsibility. Anyone who needs an advanced understanding of the foundations and functions of business management and an enhanced awareness of the global business environment will benefit. This MBA Management degree is also very useful for entrepreneurs starting their own enterprise.
Take the first step toward earning your MBA Management degree with Florida Tech's online master's degree Quick Apply process.
Careers for a Degree in Management
---
As a master's degree holder, you'll be a stronger candidate for jobs and promotions — and you'll find a wide variety of high-level and executive careers for a degree in management. A Master's degree in Business Administration with a specialization in Management is highly valued by many employers needing experienced professionals with strong business knowledge and practical leadership abilities. It's highly sought after for a number of positions including: