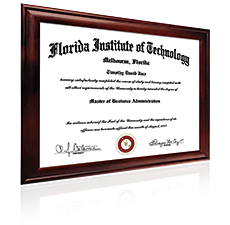 Look around at today's successful organizations and you'll find any complex undertaking requires effective project management. And as more companies utilize team-based methods, demand for knowledgeable professionals with an MBA in Project Management will only increase. Florida Tech's MBA with a specialization in Project Management, which is accredited by the Project Management Institute's Global Accreditation Center (PMI® GAC), provides hands-on experience in planning and managing projects in the modern business environment. Rooted in the case method approach, this intensive MBA program offers a uniquely collaborative, hands-on education only Florida Tech can offer – with no GMAT or GRE requirement.
PMI® GAC Accreditation
---
Accreditation from the Project Management Institute's Global Accreditation Center (PMI® GAC) confirms that the quality of Florida Tech's MBA in Project Management meets a comprehensive international standard. Recognition demonstrates alliance with the world's largest project management association, and also provides many benefits to students. PMI® accreditation ensures that they will learn the latest methods and developments, and because employers recognize that students from accredited programs generally have higher skill levels, they're more likely to obtain jobs and promotions.
As of July 1, 2015, five MBA in Project Management courses will provide the following benefit to students:
Pre-approved for contact hours that may be applied toward the project management educational eligibility requirement needed to sit for a PMI® credential examination (such as the PMP®). Students eligible to sit for a PMI® credential exam may immediately apply the classroom hours from a completed project management course toward the contact hour requirement rather than waiting until they graduate from the program. The student can be confident that these hours are pre-approved, and will automatically be accepted toward fulfilling the contact hour requirement.
Pre-approved for the professional development units (PDUs), which may be used by current PMI® credential holders in meeting the continuing education requirement. GAC accredited programs are now able to issue PDUs to students who complete any individual registered project management course within their accredited degree program. The PMI® credential holder can be confident that these PDUs are pre-approved, and will automatically be accepted toward fulfilling the PMI® continuing certification requirement.
The four 45-contact hour courses that will benefit students consist of the following:
BUS 5661 – Strategic Project Management
BUS 5662 – Project Tools & Techniques
BUS 5668 – Cases in Applied Project Management
BUS 5669 – Mastering Project Management
Click here to learn more about this accredited program.
Apply Real-World Skills Beyond the Classroom
---
At the heart of Florida Tech's online MBA Project Management program is an innovative two-course sequence: Essentials of Business Development 1 and 2. These initial courses, led by expert faculty, culminate in your own fully integrated business plan. You'll have the opportunity to choose your business and progressively bring your plan to fruition through critical business concepts from statistics and managerial economics to marketing. You'll gain new insights into real business situations by actively engaging in case study analysis and exercising leadership and teamwork skills. In addition to the core business fundamentals, you'll gain specialized skills in scope, time, cost and quality management. This rare combination of academic principles and practical, real-world application results in a solid business foundation you'll draw from throughout your MBA education and your professional career.
Earn this nationally recognized degree from Florida Tech in two years or less – 100% online!
Learn How To
---
Strategize, plan and implement at business and corporate levels.
Achieve project objectives while managing constraints.
Implement a process-based approach to accomplishing work activities.
Determine which tools or techniques are appropriate during different phases of the project management lifecycle.
How You'll Benefit From an MBA Project Management Degree
Experience hands-on development of project plans.
Understand the project management body of knowledge and project management theory.
Appreciate how to plan and manage a project using concepts from development to closing.
Gain skills you can apply immediately in the workplace.
Who Should Enroll
---
An online Master's in Project Management opens up a wide range of high-ranking opportunities. With the specialized knowledge and skill sets only an MBA in Project Management can offer, you'll find yourself among a select group of professionals poised to successfully compete for key positions and earn more money. And you can earn your MBA from Florida Tech 100% online in less than 24 months.
Take the first step toward earning your MBA in Project Management degree with Florida Tech's online Quick Apply process.
Careers for an MBA Project Management Degree
---
Project management is an increasingly crucial responsibility in today's business environment. Key positions should be plentiful but often require the skill and training of a graduate degree. Florida Tech's MBA with a specialization in Project Management combines proven principles and practical tools and techniques employers seek for positions such as: