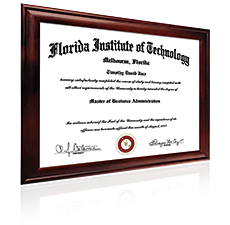 For those who are detail-oriented and possess a love of numbers, the job outlook in accounting looks bright. Today's businesses – both large and small – increasingly maintain electronic financial records and require professionals with specialized accounting training.
Florida Tech's Associate of Arts in Accounting combines the financial principles and liberal arts background employers seek. In addition to accounting principles, you'll explore subjects such as statistics, management and global business. And you can earn this respected degree in accounting 100% online in 20 months or less!
Learn How to
---
Estimate the value of liabilities and equities.
Prepare and apply accounting standards to financial presentations.
Incorporate cost accounting fundamentals into daily practice.
Exercise critical thinking methods to identify and solve problems.
How You'll Benefit From an AA in Accounting Degree
---
Become acquainted with the theoretical framework of accounting and the accounting cycle.
Comprehend the fundamental role of accounting with regards to business decisions.
Gain skills you can apply immediately in the workplace.
Get an excellent start on earning your bachelor's degree.
Who Should Enroll
---
An Associate's degree in Accounting offers countless possibilities ranging from increased earning potential to a greater sense of job security. Whether you have an interest in corporate accounting or bookkeeping, or plan to go on to earn a bachelor's or master's degree, this program is a great place to start. And you can finish this accounting degree program 100% online in less than 20 months, without putting your life on hold.
Take the first step toward earning your AA Accounting degree with Florida Tech's online Quick Apply process.
Careers for an Associate's Degree in Accounting Graduate
---
As financial transactions require more recordkeeping, qualified accounting professionals will remain in high demand. For example, today's public companies are facing rising pressure to maintain transparency and accuracy in their reporting of financial data. These factors, in addition to an aging workforce, contribute to a positive career outlook. Armed with an Associate's degree in Accounting, you can explore numerous opportunities including positions such as:
You can feel proud knowing your Associate of Arts in Accounting degree is a respected credential awarded by a regionally accredited university. And, depending on the bachelor's degree program you may pursue in the future – many, if not all, of your credits should transfer. In fact, many accounting graduates decide to continue their studies at Florida Tech with a Bachelor's in Accounting and continue on to an MBA in Accounting and Finance.