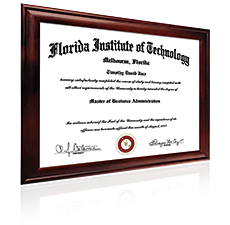 If earning an Applied Psychology degree is on your mind, then Florida Tech's affordable, flexible online program should be your first thought. Ranked a Tier 1 Best National University by U.S. News and World Report, prestigious Florida Tech's Associate of Arts in Applied Psychology will give you the skills and knowledge that are in-demand by many employers. And, even though you're studying 100% online (streaming video lectures can be accessed even on your mobile device!), you'll earn the same diploma as main-campus students. If you're in a hurry to advance your career, you can earn your Applied Psychology degree online in 24 months or less!
Learn How to
---
Use exposure to methods which help identify, understand and develop practical solutions to problems facing today's individuals
Build the foundation to distinguish between various psychological and other interdisciplinary theories of human behavior
Emphasize the application of scientific theory and research to the study of group dynamics in real world situations
How You'll Benefit From an Associate of Arts in Applied Psychology
---
Understand basic psychological processes, including areas in which psychology is a natural science and a social science.
Identify various major concepts of applied psychology, including theoretical perspectives, historical trends and empirical findings.
Recognize the value of empirical evidence and ethical behaviors.
Gain skills you can apply immediately in the workplace.
Who Should Enroll
---
Florida Tech's Associate's degree in Applied Psychology is designed to provide a solid knowledge base in the field of applied psychology. Students will be exposed to principles of effective research, critical thinking and personal development. The flexible online psychology degree curriculum allows students to gain exposure to a wide variety of both general and concentrated subsets. Anyone who wishes to work in the fields of psychology, sociology, business, legal studies or counseling will benefit by obtaining this degree.
Take the first step toward earning your Associate of Arts in Applied Psychology degree with Florida Tech's online Quick Apply process.
Careers for an Associate's Degree in Applied Psychology Graduate
---
According to a 2011 Bureau of Labor Statistics report titled Education Pays, associate's degree holders earn more money and are less likely to be unemployed compared to those with only a high school diploma. With an Associate of Arts in Applied Psychology from prestigious Florida Tech, you'll gain knowledge and skills that will apply to any field, while perfectly positioning yourself to further your education or career. You'll find this respected credential to be useful in a variety of positions including:
You can feel proud knowing your Associate of Arts in Applied Psychology is awarded by a regionally accredited university. And, depending on the bachelor's degree program you choose to pursue in the future – many, if not all, of your credits should transfer to a bachelor's degree program. In fact, a lot of applied psychology graduates decide to continue their studies at Florida Tech University Online.
Prospective students are encouraged to conduct research to determine actual earning potential as it may vary depending on location, level of education and experience.