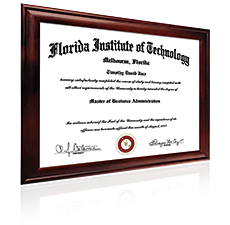 As businesses continue to streamline, demand for professionals with a business administration degree and an understanding of core business concepts is expected to increase. If you have an interest in managing a business or want to explore your entrepreneurial spirit, Florida Tech's Associate of Arts in Business Administration degree is your first step. You'll receive a basic foundation of liberal arts courses and an introduction to the principles of today's demanding business world. Earn your AA Business Administration degree from Florida Tech in as little as 18 months.
Learn How to
---
Communicate more effectively in the business environment
Integrate skills from a number of disciplines including accounting, economics, law and management
Utilize practical, modern applications of computers
Exercise critical thinking methods to identify and solve problems
How You'll Benefit From an AA Business Administration Degree
---
Learn the importance of decision making, planning, strategy, staffing, leading, control and change in a global environment.
Understand basic accounting, macro and micro economic and legal concepts.
Gain skills you can apply immediately in the workplace.
Get an excellent start on earning your bachelor's degree.
Who Should Enroll
---
This Associate of Arts in Business Administration degree is designed to expose you to a wide variety of disciplines from accounting to business law, statistics to management. Anyone who wishes to gain a foundational business degree will benefit.
Take the first step toward earning your AA Business Administration degree with Florida Tech's online Quick Apply process.
Careers for a Business Administration Degree Graduate
---
As an AA Business Administration degree holder, you'll be a stronger candidate for jobs and promotions – and you'll find a wide variety of career paths. An Associate's degree in Business Administration is valued by many employers because it gives you an introduction to core business concepts such as accounting, management and law. It's highly sought after for a number of careers in business administration including:
Many business administration degree graduates choose to extend their education with a bachelor's degree from Florida Tech. An associate's degree from a regionally accredited university is a solid educational foundation and depending on the bachelor's degree program you choose, many of the credits earned in an associate's degree program transfer to your bachelor's degree program.