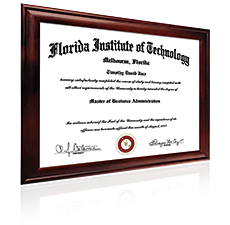 Regardless of the economy, securing the safety and well-being of American citizens will always be a national priority. If you're interested in crime prevention, homeland security or court administration – the field of criminal justice offers a variety of secure career paths for qualified professionals. An Associate's degree in Criminal Justice provides the industry knowledge and respected credentials potential employers seek. Earn your Associate of Arts in Criminal Justice degree online from Florida Tech in less than 20 months!
Learn How To
---
Communicate more effectively in the professional criminal justice environment.
Utilize practical, modern applications of computers.
Analyze components in criminal justice including crime trends, statistics, victimology and justice policy.
Exercise critical thinking methods to identify and solve problems.
How You'll Benefit From Earning an AA Criminal Justice Degree Online
---
Understand the complex relationships between legal, historical and psychological influences affecting the U.S. legal system.
Recognize causes, and prevention, of criminal and delinquent behavior.
Examine current practices and strategies for drug education and treatment.
Gain skills you can apply immediately in the workplace.
Get an excellent start on earning your bachelor's degree.
Who Should Enroll
---
The Associate's degree in Criminal Justice offers countless possibilities ranging from increased earnings to improved job stability. According to a 2011 Bureau of Labor Statistics report titled Education Pays, associate's degree holders earn more money and are less likely to be unemployed compared to those with only a high school diploma. If you're interested in earning a college degree but aren't ready for the time and financial commitment of a bachelor's degree, consider an associate's degree. You can finish your criminal justice degree online in less than 20 months, and you don't have to put your life on hold to do it.
Take the first step toward earning your AA in Criminal Justice degree with Florida Tech's online Quick Apply process.
Careers for a Criminal Justice Degree Graduate
---
Whether you're interested in working within the police, courts or corrections – the multidisciplinary field of criminal justice can lead to many different career paths, but you'll need more than a high school diploma to successfully compete. An Associate's degree in Criminal Justice is proof of your dedication to your education and is useful in a wide variety of positions including:
Many criminal justice degree graduates choose to extend their education with a bachelor's degree from Florida Tech. An associate's degree from a regionally accredited university, like Florida Tech, is a solid educational foundation. And, depending on the bachelor's degree program you choose – many, if not all, of your credits should transfer to a bachelor's degree program.
Prospective students are encouraged to conduct research to determine actual earning potential as it may vary depending on location, level of education and experience.