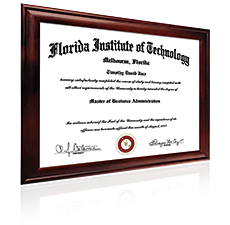 Healthcare is one of today's fastest growing industries, and it's no surprise. Increased pressure to alleviate rising costs, a growing aging population and complex regulations all add up to soaring demands for a variety of healthcare professionals. Florida Tech's Associate's degree in Healthcare Management combines valuable health-specific training with proven business management principles. Earn your degree in healthcare management 100% online in less than 20 months!
Learn How to
---
Address bioethical and socioethical issues in the practice of medicine.
Develop disciplines of management including planning, strategy, organizing, staffing, leading, control and change.
Apply current trends in America's managed healthcare system including organizational structure and management.
Exercise critical thinking methods to identify and solve problems.
How You'll Benefit From an AA Healthcare Management Degree
---
Understand the organizational structure and management of managed healthcare.
Realize the structure, finance and cultural values of the U.S. healthcare system.
Gain skills you can apply immediately in the workplace.
Get an excellent start on earning your bachelor's degree.
Who Should Enroll
---
If you're serious about entering the healthcare management field, chances are you're going to need specialized training beyond a high school diploma. An Associate's degree in Healthcare Management offers countless possibilities ranging from increased earnings to improved job stability. According to a 2011 Bureau of Labor Statistics report titled Education Pays, associate's degree holders earn more money and are less likely to be unemployed compared to those with only a high school diploma.
Take the first step toward earning your AA Healthcare Management degree with Florida Tech's online Quick Apply process.
Careers for an Associate's Degree in Healthcare Management Graduate
---
Healthcare is a business and demands skilled, knowledgeable professionals to keep it running smoothly and efficiently. As the industry continues to rapidly evolve and restructure, career opportunities for college graduates are expected to steadily rise. In the 2010-11 edition of its Career Guide to Industries, the Bureau of Labor Statistics predicts 22% growth in the healthcare industry through 2018. An Associate's degree in Healthcare Management from Florida Tech is a respected credential useful in a variety of positions including:
You can feel proud knowing your Associate's degree in Healthcare Management is awarded by a regionally accredited university. And, depending on the bachelor's degree program you choose to pursue in the future – many, if not all, of your credits should transfer to a bachelor's degree program. In fact, many healthcare management graduates decide to continue their studies at Florida Tech University Online with a Bachelor's and Master's degree in Business Administration specializing in Healthcare Management.
Prospective students are encouraged to conduct research to determine actual earning potential as it may vary depending on location, level of education and experience.