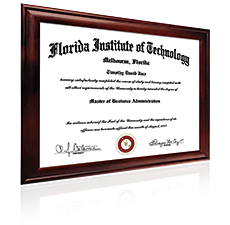 Marketing is an exciting, ever-changing field that can provide a rewarding career. Grow your knowledge while fulfilling one of your goals with Florida Tech's Associate's degree in Marketing.
You'll develop respected industry skills that are built upon a solid liberal arts foundation. Invest in yourself and earn your Associate of Arts in Marketing degree in less than 20 months, 100% online.
Learn How to
---
Identify market segments, estimate product demand and set prices.
Develop management disciplines including planning, strategy, organizing, staffing, leading, control and change.
Plan, implement and monitor an advertising campaign.
Exercise critical thinking methods to identify and solve problems.
How You'll Benefit From an AA in Marketing Degree
---
Discover the skills and tools needed for successful start-up marketing.
Understand the fundamental principles in the marketing of goods, services and ideas.
Gain skills you can apply immediately in the workplace.
Get an excellent start on earning your bachelor's degree.
Who Should Enroll
---
An Associate's degree in Marketing offers countless possibilities ranging from increased earnings and improved job stability to personal fulfillment. According to a 2014 Bureau of Labor Statistics report titled Education Still Pays, associate's degree holders earn more money and are less likely to be unemployed compared to those with only a high school diploma. If you're interested in pursuing an online degree in marketing and building a successful career, this discipline-specific associate's degree is the first step. And you can graduate in less than 20 months, without putting your life on hold.
Take the first step toward earning your AA Marketing degree with Florida Tech's online Quick Apply process.
Careers for an Associate's Degree in Marketing Graduate
---
Qualified marketing professionals continue to be in high demand, but employers generally require formal education beyond a high school diploma. An Associate's degree in Marketing is a respected credential that can open doors to positions including:
You can feel proud knowing your Associate of Arts in Marketing degree is awarded by a regionally accredited university. And, depending on the bachelor's degree program you may choose to pursue in the future – many, if not all, of your credits should transfer. In fact, many marketing graduates decide to continue their studies at Florida Tech with a BA and then an MBA with a specialization in Marketing.
Prospective students are encouraged to conduct research to determine actual earning potential as it may vary depending on location, level of education and experience.