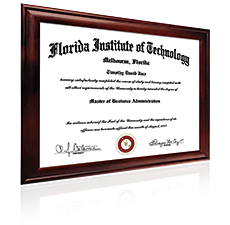 As new businesses emerge and financial laws change, demand for professionals with an accounting degree is expected to continue to grow. If you're good with numbers and enjoy working with people, this online accounting degree is the one for you. Florida Tech's Bachelor of Arts in Accounting degree prepares you for a career in financial, managerial and cost accounting, tax planning, auditing, international accounting, and accounting for mergers and acquisitions. As a graduate, you could pursue a career in either public or private accounting (profit and not-for-profit) or in the government. This BA in Accounting degree also establishes a foundation for becoming a Certified Public Accountant (CPA) or Certified Management Accountant (CMA). To ensure a complete education, our accounting degree program is built upon a broad-based liberal arts foundation and includes career-specific concentration courses, such as Cost Accounting, Auditing, Compensation and Benefits, and more.
Learn How to
---
Establish an accounting information system
Practice the fundamentals of cost accounting
Maintain current accounting standards of financial accounting
Incorporate principles and procedures of internal and public auditing
How You'll Benefit From a BA in Accounting Degree
---
Learn the practical application of tax laws including tax return preparation and tax research.
Understand accounting principles for partnerships, mergers, acquisitions and consolidations.
Investigate corporate taxation and trust and estate tax.
Gain skills you can apply immediately in the workplace.
Who Should Enroll
---
This online accounting degree is designed for those who wish to work in the accounting field or go on to become a Certified Public Accountant (CPA) or Certified Management Accountant (CMA)*.
Take the first step toward earning your BA in Accounting degree with Florida Tech's online Quick Apply process.
Careers in Accounting
---
As a BA in Accounting degree holder, you'll be a stronger candidate for jobs and promotions — and you'll find a wide variety of accounting career paths. A Bachelor's of Arts in Accounting degree is valued by many employers — even more so in recent years due to stricter accounting practices. It's highly sought after for a number of careers in accounting including:
*Check with your state board of accountancy for qualifications and requirements.