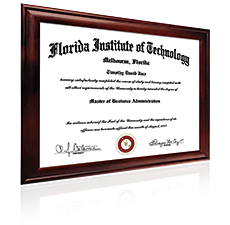 Are you passionate about championing the well-being and safety of children? Do you want to pursue a career based on helping others? Florida Tech's BA in Applied Psychology with a concentration in Child Advocacy offers a liberal arts foundation and culminates in studies of child development, child advocacy, community psychology and critical issues pertaining to child maltreatment.
Whether you decide to pursue a position in the child advocacy field or attend graduate school, this 100% online degree program will empower you with the critical thinking and communication skills that can truly make a difference.
Learn How to
---
Cultivate the necessary skills to work as a child advocate
Identify, understand and develop practical solutions to problems facing today's organizations
Recognize psychological principles, theories and research pertaining to the developing child from conception through early adolescence
Value the complexity and key concepts of sociocultural and international diversity
How You'll Benefit From a BA in Applied Psychology With a Concentration in Child Advocacy Degree
---
Discover various major concepts of applied psychology, including theoretical perspectives, historical trends and empirical findings.
Apply methods of clinical assessment and treatment of behavioral disorders upon completion of advanced study.
Examine domestic violence, crime prevention, delinquency, hate crimes and substance abuse in terms of best practices from the field.
Gain skills you can apply immediately in the workplace.
Who Should Enroll
---
Florida Tech's Bachelor's degree in Applied Psychology with a concentration in Child Advocacy is designed for anyone wanting their work to benefit children's lives. This degree is a good fit for you if you're considering working in child welfare agencies, community organizations, youth behavioral health services or advocacy programs. Anyone who wishes to work in the fields of psychology, sociology, business, legal studies or counseling will benefit.
Take the first step toward earning your BA in Applied Psychology degree with a concentration in Child Advocacy with Florida Tech's online Quick Apply process.
Applied Psychology and Child Advocacy Careers
---
As a Bachelor's degree in Applied Psychology with a concentration in Child Advocacy holder, you can explore managerial, leadership and other professional opportunities in a variety of fields, particularly in behavioral and social sciences for local, state and federal agencies. The degree program also serves as valuable preparation for graduate students in various disciplines of psychology and sociology, business, legal studies and counseling and is applicable to a number of positions including: