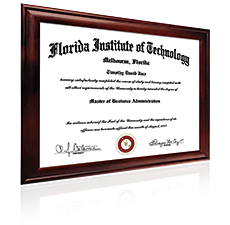 Would you like to understand the individual, organizational and cultural aspects that impact workplace efficiency, effectiveness and job satisfaction? As today's businesses strive to save money, streamline processes and more effectively communicate across the globe, demand for professionals with an enhanced knowledge in organizational psychology will only increase. Florida Tech's Bachelor's degree in Applied Psychology with a concentration in Organizational Psychology focuses on applying psychological principles and methods to challenges facing people within the workplace. Courses provide a broad-based liberal arts education further developed with the fundamental knowledge, skills and values of applied and organizational psychology.
Learn How to
---
Grasp complex interactions of, and interrelated issues that include: management, employee recruitment, selection and promotion, training and development, and organizational effectiveness
Identify, understand and develop practical solutions to problems facing today's organizations
Recognize the essential competencies of effective leadership such as conflict management, communication facilitation, and group and team leadership
Value the complexity and key concepts of sociocultural and international diversity
How You'll Benefit From an Applied Psychology With a Concentration in Organizational Psychology Degree
---
Discover various major concepts of applied psychology, including theoretical perspectives, historical trends and empirical findings.
Appreciate the application, psychometrics and legal considerations of personality, cognition and other forms of selection testing.
Understand the key concepts, applications and theoretical perspectives of organizational effectiveness on human behavior.
Gain skills you can apply immediately in the workplace.
Who Should Enroll
---
Florida Tech's Bachelor's degree in Applied Psychology with a concentration in Organizational Psychology is designed to provide a broad knowledge base in the field of applied psychology with an overview of the nature of successful leadership, culture, aggression and stigmas within the workplace. Students will be exposed to principles of effective research, critical thinking and personal development. Anyone who wishes to work in the fields of psychology, sociology, business, legal studies or counseling will benefit.
Take the first step toward earning your BA in Applied Psychology degree with a concentration in Organizational Psychology with Florida Tech's online Quick Apply process.
Applied Psychology and Organizational Psychology Careers
---
As a Bachelor's degree in Applied Psychology with a concentration in Organizational Psychology holder, you can explore managerial, leadership and other professional opportunities in a variety of fields, particularly in business, marketing and sales. The bachelor's degree program also serves as valuable preparation for graduate students in various disciplines of psychology and sociology, business, legal studies and counseling and is applicable to a number of positions including: