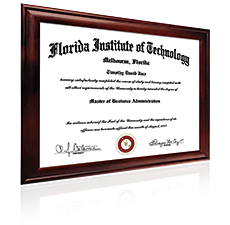 A variety of organizations value knowledge of basic human behavior, in addition to critical thinking, interpersonal and communication skill sets. If you're interested in gaining this in-demand know-how and studying how psychological principles can improve health, business management, product design or law, consider a Bachelor's degree in Applied Psychology.
Florida Tech's BA in Applied Psychology combines a broad-based liberal arts curriculum with a scientific approach to understanding human behavior. This flexible applied psychology degree program is offered 100% online and allows you to choose your own third- and fourth-year electives from four different concentrations, including Child Advocacy, Clinical Psychology, Forensic Psychology and Organizational Psychology.
Learn How to
---
Identify, understand and develop practical solutions to problems facing today's organizations
Distinguish between various psychological and other interdisciplinary theories of human behavior
Respect the critical nature of reliability and validity when it comes to tests and measurements
Value the complexity and key concepts of sociocultural and international diversity
How You'll Benefit From a BA in Applied Psychology Degree
---
Understand basic psychological processes, including areas in which psychology is a natural science and a social science.
Discover various major concepts of applied psychology, including theoretical perspectives, historical trends and empirical findings.
Recognize the value of empirical evidence and ethical behaviors.
Gain skills you can apply immediately in the workplace.
Who Should Enroll
---
Florida Tech's Bachelor's degree in Applied Psychology is designed to provide a broad knowledge base in the field of applied psychology. Students will be exposed to principles of effective research, critical thinking and personal development. The flexible online psychology degree curriculum allows students to choose third- and fourth-year electives from a wide variety of both general and concentrated subsets. Anyone who wishes to work in the fields of psychology, sociology, business, legal studies or counseling will benefit.
Take the first step toward earning your BA in Applied Psychology degree with Florida Tech's online Quick Apply process.
Applied Psychology Careers
---
As a Bachelor's degree in Applied Psychology holder, you can explore managerial, leadership and other professional opportunities in a variety of fields, including social and behavioral sciences, business, marketing and sales. The Bachelor's in Applied Psychology degree program also serves as valuable preparation for graduate students in various disciplines of psychology and sociology, business, legal studies and counseling and is applicable to a number of positions including: