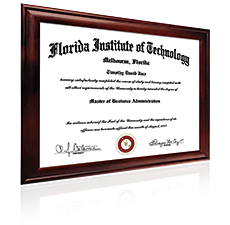 As businesses increasingly need financial expertise and firms broaden their services, demand for professionals with an enhanced knowledge of accounting will continue to increase. If you're interested in business administration and you have an affinity for numbers but don't necessarily want to major in accounting, consider a Bachelor's Degree in Business Administration with a specialization in Accounting. This bachelor's degree offers you the best of both worlds: the ability to specialize without declaring yourself an accounting major. Florida Tech's BA Business Administration Accounting curriculum is offered 100% online and includes a broad-based liberal arts education along with career-specific business administration courses.
Learn How to
---
Identify problems, make decisions and interpret results based on quantitative techniques
Develop disciplines of management including planning, strategy, organizing, staffing, leading, control and change
Practice the fundamentals of cost accounting
Incorporate principles and procedures of internal and public auditing
How You'll Benefit From a BA Business Administration Accounting Degree
---
Learn decision-making processes and how to implement them in a global setting.
Gain practical experience in various strategies and formats when communicating in organizational situations.
Learn the practical application of tax laws including tax return preparation and tax research.
Gain skills you can apply immediately in the workplace.
Who Should Enroll
---
This Bachelor of Arts in Business Administration with a specialization in Accounting degree is designed to help you learn skills in effective business communications, strategies in decision making and principles including auditing and individual federal income tax. Anyone who wishes to work in the field of business administration or accounting will benefit.
Take the first step toward earning your BA Business Administration Accounting degree with Florida Tech's online Quick Apply process.
Business Administration Accounting Careers
---
As a Bachelor's degree holder in Business Administration with a specialization in Accounting, you'll be a stronger candidate for jobs and promotions — and you'll find a wide variety of accounting careers. A BA Business Administration Accounting degree is valued by many employers — even more so in recent years due to stricter accounting practices. It's highly sought after for a number of business administration accounting careers including: