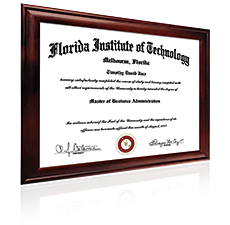 As businesses need to apply the latest technologies to operate more efficiently, demand for professionals with an enhanced knowledge of computers is expected to continue to grow. If you're interested in learning new technologies and their business applications, Florida Tech's Bachelor of Arts in Business Administration with a specialization in Computer Information Systems is the CIS degree program for you. Courses teach fundamental business and communication principles, and build solid computer information systems skills. To ensure a complete education, this BA Business Admin CIS degree program is structured from a broad-based liberal arts education to career-specific computer information systems courses.
Learn How to
---
Develop disciplines of management including planning, strategy, organizing, staffing, leading, control and change
Improve quality and productivity by streamlining systems and processes
Implement principles of theory and design by creating and operating your own actual network
Create applications, collect data and manage databases
How You'll Benefit From a BA Business Admin CIS Degree
---
Learn decision-making processes and how to implement them in a global setting.
Gain practical experience in various strategies and formats when communicating in organizational situations.
Examine various software systems, identify software system roles and determine significant features, advantages and disadvantages.
Obtain an edge in technical skills that will supplement your business training.
Gain skills you can apply immediately in the workplace.
Who Should Enroll
---
This Bachelor of Arts in Business Administration with a specialization in Computer Information Systems degree is designed to help you learn skills in effective business communications and strategies in decision making. These business skills are complemented by fundamental, technological principles including object-oriented programming and a choice of electronic commerce, systems analysis and design, or network theory and design. Anyone who wishes to manage in the field of computer information systems will benefit.
Take the first step toward earning your BA Business Administration CIS degree with Florida Tech's online Quick Apply process.
Computer Information Systems Careers
---
As a BA Business Admin CIS degree holder, you'll be a stronger candidate for jobs and promotions — and you'll find a wide variety of computer information systems careers. A Bachelor's degree in Business Administration with a specialization in Computer Information Systems is valued by many employers seeking professionals with a foundation in core business concepts in addition to an in-depth understanding of computer applications. A Business Administration CIS Degree highly sought after for a number of CIS career positions including: