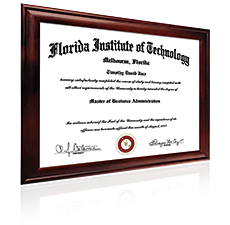 Do you envision yourself in a leadership role? Are you solutions-oriented? The Bachelor's in Business Administration with a specialization in Management from Florida Tech may be the management degree for you — whether your interest is in a small company or a large corporation.
Florida Tech's BA Business Administration Management curriculum stresses the importance of managing in a global economy and understanding the ethical implications of managerial decisions. To ensure a complete education, every business administration program at Florida Tech is structured from a broad-based liberal arts education to career-specific business and management degree courses such as Organizational Theory, Business Ethics, Public Administration and more.
Learn How to
---
Bring change through contemporary behavior and classical organizational theories
Identify problems, make decisions and interpret results based on quantitative techniques
Develop disciplines of management including planning, strategy, organizing, staffing, leading, control and change
Improve quality and productivity by streamlining systems and processes
How You'll Benefit From a BA Business Administration Management Degree
---
Learn decision-making processes and how to implement them in a global setting.
Gain practical experience in various strategies and formats when communicating in organizational situations.
Develop international business skills by learning how to assess foreign business and international trade practices.
Gain skills you can apply immediately in the workplace.
Who Should Enroll
---
This Bachelor of Arts in Business Administration with a specialization in Management degree is designed to help you learn skills in effective business communications, strategies in decision making and techniques in managing people and change. Anyone who wishes to work in the field of business administration or management will benefit.
Take the first step toward earning your BA Business Administration Management degree with Florida Tech's online Quick Apply process.
Careers for a Degree in Management
---
As a BA Business Admin Management degree holder, you'll be a stronger candidate for jobs and promotions — and you'll find a wide variety careers in management. A Bachelor's in Business Administration with a specialization in Management degree is valued by many employers seeking professionals with a foundation in core business concepts in addition to leadership and supervisory abilities. It's highly sought after for a number of careers for a degree in management including: