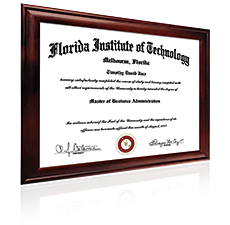 While criminal justice is commonly associated with law enforcement careers, the field encompasses a wide range of paths, including corrections, juvenile justice, homeland security and intelligence. From Law and Psychology to Criminology, you'll participate in courses that highlight the many facets of this exciting field.
Florida Tech's Bachelor of Arts in Criminal Justice degree prepares you for a career in many local, state and federal positions, and for graduate study in criminal justice and related fields including law. This curriculum is offered 100% online and includes a broad-based liberal arts education along with career-specific criminal justice courses.
Learn How to
---
Analyze components in criminal justice including crime trends, statistics, victimology and crime prevention
Apply legal concepts including due process, criminal liability, use of force, and search and seizure
Perform a crime analysis through tested techniques, methods and technologies
Exercise current practices and strategies in drug education and treatment
How You'll Benefit From a BA in Criminal Justice Degree
---
Develop a global perspective of the overall process of criminal justice, from investigation and arrest, to court and prisons.
Learn delinquency risk factors, prevention, diversion and related best practices.
Discover future trends and best practices in community policing.
Gain skills you can apply immediately in the workplace.
Who Should Enroll
---
This online criminal justice degree is designed to expose you to a wide variety of theories and practices from crime analysis to victimology, homeland security to organized crime. Anyone who wishes to work in the field of criminal justice will benefit.
Take the first step toward earning your BA in Criminal Justice degree with Florida Tech's online Quick Apply process.
Careers for a Criminal Justice Degree
---
As a BA in Criminal Justice degree holder, you'll be a stronger candidate for jobs and promotions — and you'll find a wide variety of careers for a criminal justice degree. A Bachelor's degree in Criminal Justice builds critical-thinking and problem-solving skills — abilities valued by many employers. It's highly sought after for a number of positions including: