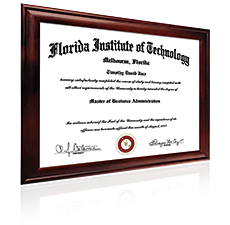 Are you a whiz on a computer? Are you interested in improving computers for business users and consumers? As new technologies become more complex and the need for more customized applications increases, demand for computer information systems specialists is expected to continue to grow. Florida Tech's Bachelor's in Computer Information Systems degree program focuses on the technical knowledge, skill sets and best practices necessary to compete in today's ever-changing computer field. You'll study programming, database concepts, network theory and design, systems analysis and design, information systems management and more – from the university known for educating many NASA scientists. As with all Florida Tech degree programs, students are required to take broad-based liberal arts and select business courses in addition to career-specific computer information systems courses.
Learn How to
---
Develop disciplines of contemporary information technology management
Implement principles of theory and design by creating and operating your own actual network
Bring change through contemporary behavior and classical organizational theories
Apply principles of the system-development cycle including analysis of current systems, program development, testing, implementation, maintenance and documentation
How You'll Benefit From a BS Computer Information Systems Degree
---
Use theories of decisions and decision analysis, including probability and risk taking, to prepare business packages such as forecasting and linear programming.
Gain practical experience in various strategies and formats when communicating in organizational situations.
Understand the role of the Internet and the web including electronic payment, security, the regulatory environment and web-based marketing.
Gain skills you can apply immediately in the workplace.
Who Should Enroll
---
This Bachelor of Science in Computer Information Systems degree is designed to expose you to a wide variety of computer information systems principles including object-oriented programming, database administration, electronic commerce, systems analysis and design; network theory and design, and project management. Anyone who wishes to work in the field of computer information systems will benefit.
Take the first step toward earning your BS Computer Information Systems degree with Florida Tech's online Quick Apply process.
Bachelor's degree in Computer Information Systems
---
As a BS Computer Information Systems degree holder, you'll be a stronger candidate for jobs and promotions — and you'll find a wide variety of computer information systems careers. Considering today's rapid advances in digital technologies, a Bachelor's in Computer Information Systems degree is valued by many employers seeking professionals who can use technology to achieve various business objectives. An online CIS degree from world- renowned Florida Tech is highly sought after for a number of positions including: