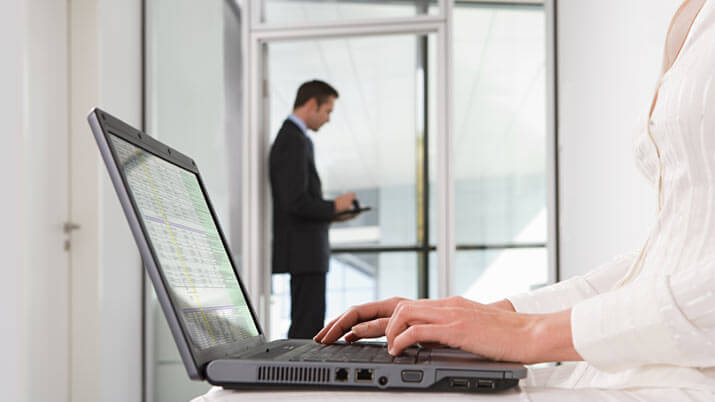 Have you reached a point in your career path where you've decided to return to school for an advanced degree? If so, you may be trying to decide between a technical degree, such as a Master's Degree in Information Technology (MSIT), or a business degree with a technical focus, like the Master of Business Administration with a specialization in Information Technology Management degree.
When making such an important decision, it can be very helpful to know the main differences between the two degrees, the typical curriculum of each and your possible career paths upon earning your master's credential. You may discover distinct advantages of one degree over the other. After assessing your skills, reviewing this information and conducting your own research about available programs, you'll be much better prepared to decide whether an MSIT or MBA degree better fits your skills and career plans.
MBA in Information Technology
The Master of Business Administration with a specialization in Information Technology degree program combines business management and information technology courses, to give students a broad yet detailed base of knowledge. Graduates demonstrate skills in basic IT and globalization concepts, understand how to use emerging technologies to solve business problems, and become proficient at assessing risk using statistical data.
MBA in IT Curriculum
An information technology MBA program typically involves instruction in information systems fundamentals, and how they are leveraged to support business objectives in areas such as data, communication, operations and research. Technical topics covered may include systems analysis, data communications, security systems and networking. On the business side, students study business applications, systems management and risk management.
MBA in Information Technology course selections may include managerial economics and accounting, database management technology, global information technology management, and strategic management of technology and innovation.
With a stronger focus on business development, economics and marketing, the MBA in IT degree is ideal for individuals who intend to pursue careers that require critical thinking and case study analysis skills to help lead businesses through growth and change.
Potential Careers
MBA in IT management degree programs are designed to equip students to pursue leadership and management careers, including database administrator, chief technology officer, network architect or information technology director.
Master's of Science in Information Technology
One difference between the MBA in IT degree and the Master's in Information Technology degree is the latter's focus on the science of technology, rather than on business management. Accordingly, a student enrolled in an MSIT program will spend more time immersed in computer science courses. If you already have a strong business background, and seek a better understanding of computer information systems, the MSIT degree may be a better option for you.
Today, businesses are technology-driven. The competition for many IT positions can be tough, so the ability to demonstrate skills in both business and technology can be a great advantage. There is a demand for skilled IT professionals who can make critical decisions through statistical data analysis and deploy the appropriate technology-based solutions. The MSIT specializations in Database Administration and Enterprise Resource Planning prepare professionals to meet these demands and gain valuable knowledge to apply to the information technology industry.
MSIT Curriculum
Enrolling in an MSIT degree program can be the first step in acquiring employer-required skills, through courses including introduction to information security management, global information technology management, project management for information systems and management of software systems.
Additional courses provide a base of business knowledge necessary to succeed in today's competitive market, including corporate finance, organizational behavior and financial accounting.
Potential Careers with an MSIT Degree
Information Technology Job Outlook
The U.S. Bureau of Labor Statistics (BLS), projects strong employment growth for computer network, systems and database administrators in coming years. In fact, the BLS predicts the field will expand much faster than the average occupation through 2018. Job growth is expected to occur as business expands its reliance on IT and mobile technology usage increases, as well as from a growing demand for information systems security. However, a growing job rate may not guarantee employment in this industry. Prospective students are encouraged to conduct independent research regarding actual job growth rates, which vary according to location, education and experience.
Make an Informed Choice
As business becomes more technically driven, the demand for skilled professionals with strong information systems management knowledge is expected to continue growing. Whether you choose to focus on the science of technology with a Master's degree in Information Technology, or seek the general business education provided through an MBA in IT degree program, you'll be taking an important first step toward expanding your career opportunities.