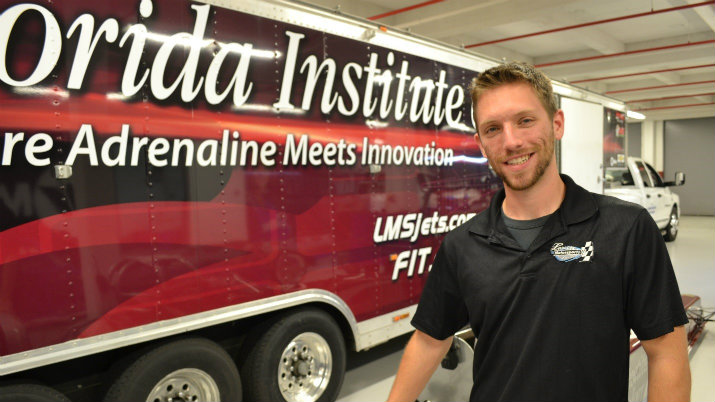 Editor's note: Brian Tocci is Director of Operations for Larsen Motorsports and a student in Florida Tech's MBA program. As part of Florida Tech's affiliation with Larsen Motorsports, Tocci has been awarded a scholarship to pursue his graduate degree online.
I started my Master of Business Administration online at Florida Tech in October 2015. So far, the convenience of setting my schedule is what I love most about it. I work full-time for Larsen Motorsports, the world's largest turbine-powered drag race team. At the same time, I am starting my own company, Shock Diamond Designs, which designs and builds furniture based on aircraft parts.
I have learned so much in a short amount of time. My background is in engineering, not business, so all of the subjects covered are new to me. The Essentials of Business Development courses contained so much information that I have used in both my full-time job and on my startup. The most interesting topic so far was also the most challenging – the business plan. I was able to make one based on my startup, and it has been a huge help thus far.
The Work/Life/School Balance
The online classes probably have the best method of learning I have experienced, but time management is a challenge because, between having a full-time job and my startup, I have to make sure I set times to study, do the reading, take tests, do the homework, etc. I think the challenge is beneficial because it is teaching you the real-world experience of how to prioritize your life. Discussion boards are one of the most time-consuming parts of the class, but that is where you get to interact with other students and the professor and learn from other people's experiences.
#JetLife
The best part about Florida Tech is the versatility of where I can work. I travel a lot for my job (all over the country for upwards of 40 days at a time) and being able to do my schooling anywhere is awesome. My full-time job is actually related to Florida Tech. Larsen Motorsports and Florida Tech are affiliated. We take the Florida Tech jet dragster all over the country and race it against the best in the business. Our facility is located just 3 miles from the Melbourne campus, and we take students as interns and train them to become ready to go into the industry when they graduate.
These cars go about 280 mph in 5.50-6.00 seconds, and it is a full female team (Elaine Larsen – Driver, Paige Sanchez – Crew Chief, and Corey Weigand – Crew). We recently raced in front of one of the largest crowds in National Hot Rod Association (NHRA) history and on FS1 TV with our four teams all driven by women.
Of course, the Florida Tech team won! After racing those cars (all four in the photo are owned and operated by Larsen Motorsports), I went back to the hotel and went to class for Managerial Economics. I'm learning how to manage people and divisions within a company, which I can relate directly to my job because I have to manage all four teams.
My name is Brian Tocci. I am 23 years old and have a Bachelor of Science in Aerospace Engineering. I am working toward my MBA at Florida Tech. I am the Director of Operations for Larsen Motorsports, the world's largest turbine-powered drag race team, and I am the founder/owner of the custom furniture company Shock Diamond Designs.